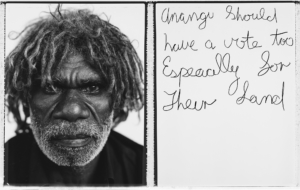 Peter Thomas of Wingellina
The 'Right to be Heard' photographic exhibition will be opened in Kalgoorlie on Thursday 17th of August, 6pm at the Goldfields Arts Centre. Members of the public are invited to attend this event and visit the photographs over the following two weeks.
The exhibition was a tremendous success in Perth in July. More than 200 people attended and viewed the images during the afternoon the exhibition was open.
Download the flyer for the exhibition here: Goldfields exhibition flyer
An ABC Open film about the exhibition: 50 Years on from Referendum