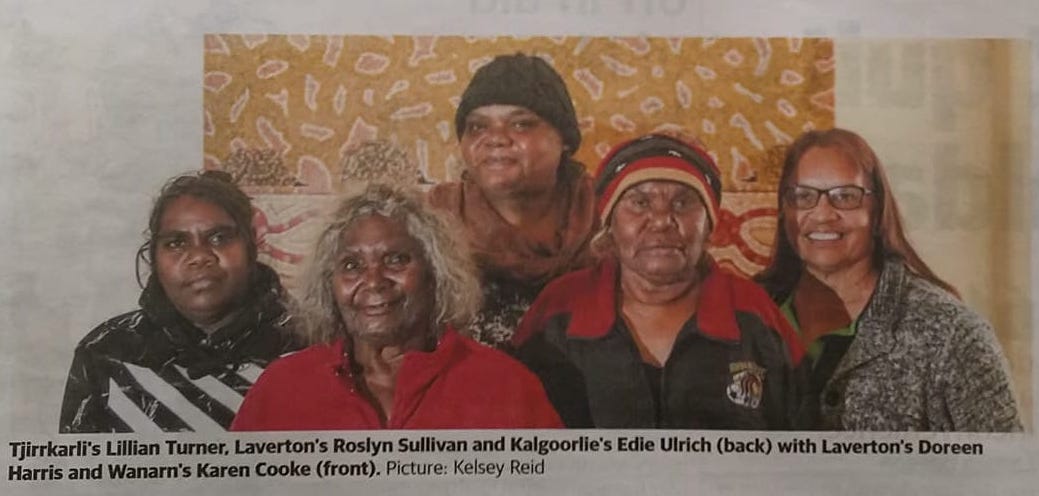 The Goldfields Aboriginal Language Centre provides interpreting and translation services in the languages of the Goldfields region using qualified interpreters. The 'Goldfields Aboriginal Translating and Interpreting Service' is the arm of GALCAC that runs this service.

Download an interpreter and translator GATIS Booking Form here. 

The languages GALCAC provides interpreters and translators for are:
Ngaanyatjarra
Pitjantjatjarra
Wangkatja
Tjupan
Cundeelee Wangka
Aboriginal English
Plain English
Interpreters are qualified with NAATI and receive ongoing training and support. Interpreters receive pre-interpreting training specific to the task and post-interpreting counselling.

Using qualified, Goldfields-based interpreters ensures:
The interpreting is linguistically and culturally accurate.
The interpreter or translator receives ongoing support and training.
Goldfields Aboriginal culture and knowledge is accurate.
Goldfields relationship, gender and cultural information is respected.
Interpreters residing in remote communities have meaningful employment whilst in their home environment.
GALCAC is supported to continue to develop the interpreting and translating service.
Interpreters and translators can provide:
linguistic interpretation,
cultural interpretation, and/or
social interpretation.
Common questions about interpreters and translators
1. What language should I get an interpreter to speak?
Ask your client or customer what language they feel the most comfortable speaking. If the client or customer speaks English but communication is still an issue, GALCAC's plain English interpreters can put your client at ease and use a combination of Aboriginal English and Plain English to assist and verify communication. 
2. Which do I need, an interpreter or a translator?
Interpreters deal with the spoken word. Translators deal with the written word. Sometimes a job needs both interpreting and translating.
GALCAC can provide both interpreters and translations. Written translations are delivered with a break down of the words used so that linguistic accuracy is verified. 
3. How much does the service cost?
Contact GALCAC for an accurate quote. Generally, jobs need to be booked at least two days in advance, to enable us to contact interpreters and prepare them for the job. Bookings attract a minimum 2 hour fee. 
Regular Bookings, work hours
Interpreting $70 + GST per hour, minimum 2 hours 
Translating $70 + GST per hour, minimum 2 hours.
Immediate Bookings (emergency interpreting and translating)
Interpreting $120 + GST per hour, minimum 2 hours
Translating $140 +GST per hour, minimum 2 hours
Special Circumstances Bookings
For example, after hours jobs, medical emergency, court, prison and police interpreting; contact us for a quote which is dependant on the complexity of the interpreting.
Contact and Bookings
Contact GALC on (08) 9021 3788 or gatis@wangka.com.au for a quote or to discuss your interpreting or translation needs. Download a GATIS translator or interpreter booking form.