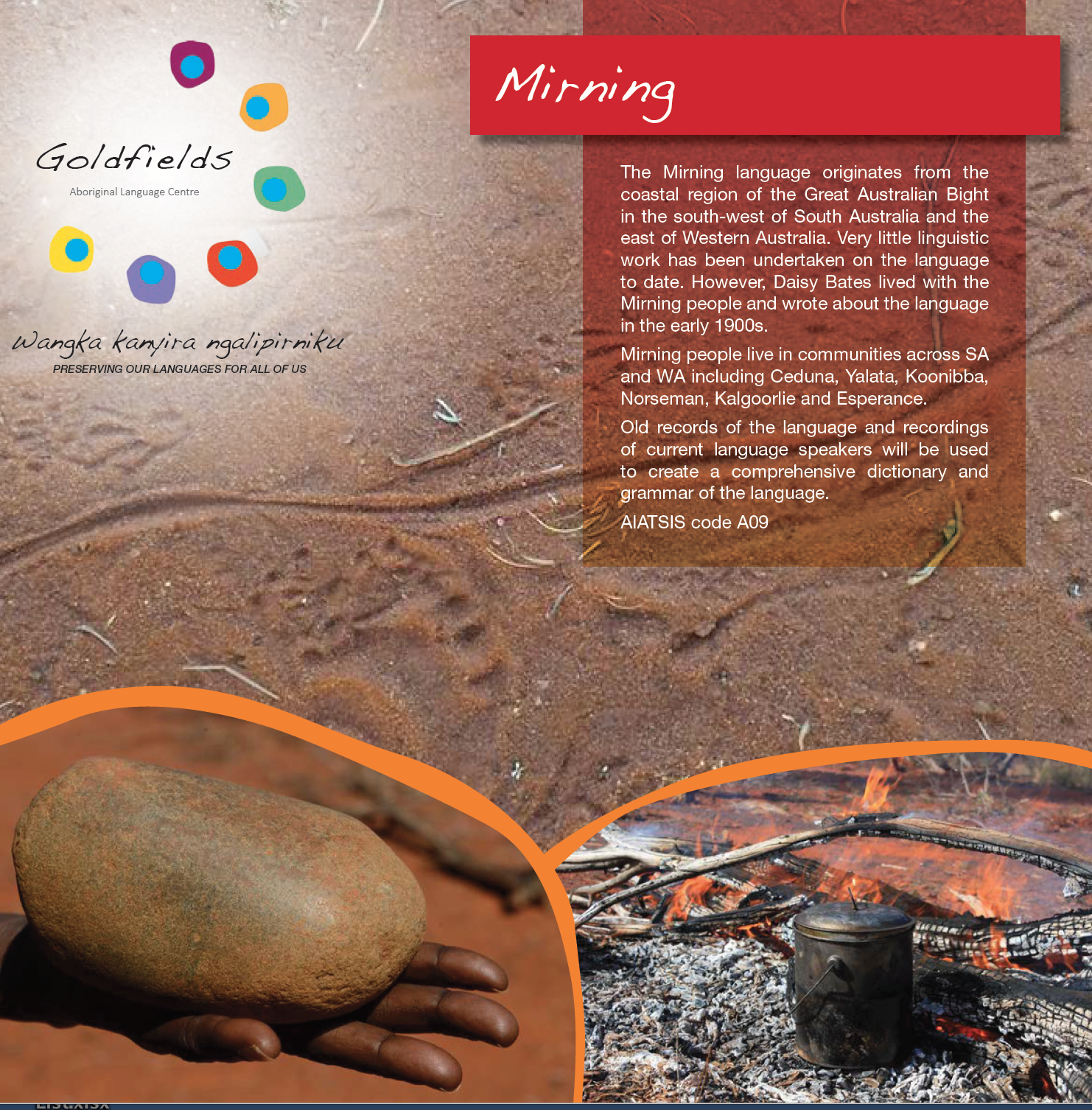 Language
Mirniny is a language associated with the south-eastern Goldfields region of WA and with the far west-coast of South Australia, along the Great Australian Bight. The coast, especially the head of the Great Australian Bight, is a significant area for the Mirniny people, as they have always been connected to water and to whales, as a totem animal. 
Mirniny-Kokatha woman, Iris Burgoyne, has written an account of her life and her people entitled 'Mirning: We are the Whales' (2000), in which she describes Mirniny culture, language, and history. The book is out of print but available at the WA State Library and in local historical collections.
Linguist, David Nash's paper on languages of the south-west of Western Australia,
Language Name
Mirniny has been spelt in several ways in historical records including Mirning, Mirniny, Meening, Mining and Mirniny. GALCAC linguist's analysis of historical records and existing audios of speakers indicate the correct spelling of the language name to be Mirniny. 
GALCAC has undertaken a study of the Mirniny language of the south-west of Western Australia. There may be dialectical variation with the South Australian Mirniny language. This analysis work has yet to be undertaken.
Along with analysis of historical records, GALCAC linguists use audio analysis tools to listen to words and to observe the visual wave file created by the audio. The audios and waves clearly indicate the final phoneme of '-ny'. A phonology of the language can be found on this website.
The language was often spelt as 'Mirning'. This spelling uses the English spelling system to write the final phoneme in the word as '-ng' rather than '-ny' as English speakers have difficulty hearing the final phoneme '-ny'.
Word Lists
A word list of the Mirniny language has been collated by the University of Adelaide which features extracts of notes written by Geoff and Alix O'Grady. Geoff, a linguist, and his wife Alix, an historian, researched and recorded Mirniny language between 1959 and 1968. Although their work was very technical, it is now readily accessible thanks to the Mirniny word list project by the University of Adelaide. Currently, the Far West Language Centre in Ceduna is undertaking Mirniny language revival activities for the South Australian region. 
Mirniny people live in many communities now, including Kalgoorlie, Esperance and Norseman in WA, Port Lincoln, Ceduna, Yalata, Port Pirie, Koonibba, several farms and communities and Adelaide.
Current Research 2019 – 2021
A linguist at the Goldfields Aboriginal Language Centre (GALCAC), Jackie Coffin, is conducting research on the Mirniny language in 2021, leading to the production of a dictionary. GALCAC has collected all available historical records of the language and Jackie has analysed the material and produced an initial report. The report is a publicly available document and is downloadable here. 
In the second stage of this work, Jackie is liaising with Mirniny people in WA to record words, phrases and sentences. This material, along with the historical material and several tapes of Mirniny speakers, has enabled the production of a phonology document, with audios. 
The words from historical sources and the words, phrases and sentences contributed by speakers are collated into a database for the production of a dictionary. People who speak Mirniny language, even if only a word or two, are encourage to contact Jackie at GALCAC to ensure the words are recorded in the database. Phone on (08)9021 3788 or email info@wangka.com.au, or come into the GALCAC office in Kalgoorlie-Boulder, WA.

Mirniny Language Resources
Mirniny language alphabet chart – available as a free download
Mirniny language bibliography and orthography paper
Mirniny phonology 
Mirniny sketch grammar 
100 Words in Mirniny Poster : This A0 sized poster is available at GALCAC or the GALCAC online shop for $15. An associated USB of audios is also $15.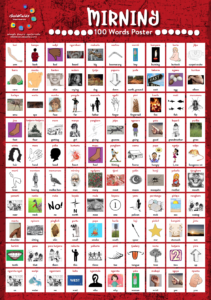 Marlpa Analysis, analysing Marlpa in comparison to Mirniny, can be found here.