GALCAC runs a number of training courses. Courses can also be developed or existing courses tailored to an organisation's needs. Talk to us about your training needs.
Click on the links below for further information on each course.
Course dates can be found on the calendar or see the below list of course dates.
Training Courses
Cultural Competency Training                    Course booking form here   $220 per person
Speak, Read and Write Goldfields Aboriginal Languages           Course booking form here  $33 per person
Creating a Culturally Safe Organisation      Course booking form here  $220 per person
2024 Course Dates
Cultural Competency Training 2024 : full day course $200+GST, bookings essential 8.30-4.00
Thursday 14th March
Thursday 18th April
Thursday 16th May
Thursday 13th June
Thursday 25th July
Thursday 15th August
Thursday 12th September
Thursday 17th October
Thursday 14th November
Speak, Read and Write Training 2024 : 2 hours $30 +GST   2.30-4.30
Friday 15th March
Friday 19th April
Friday 17th May
Friday 14th June
Friday 26th July
Friday 16th August
Friday 13th September
Friday 18th October
Friday 15th November
Creating Culturally Safe Organisations training 2024 : 2 hours $200+GST 2.30-4.30pm
Tuesday 19th March
Tuesday 7th May
Tuesday 6th August
Tuesday 22nd October
For further options or to discuss your organisation's training needs, phone (08)9021 3788 or email info@wangka.com.au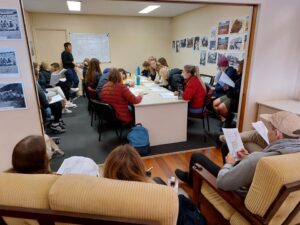 Tailored course for a group of Curtin students 2022