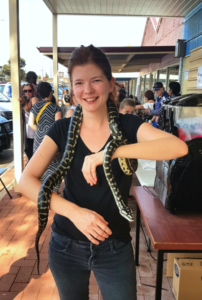 Amy Budrikis handles a live snake at the Jungkajungka Festival May 2017
GALC staff took the language centre's display down to Norseman for the fantastic first ever Jungkajungka Festival. This was a super opportunity to chat with Norseman people and visitors about the languages of the Goldfields and the research being undertaken on the languages.
Marion Mullin and linguistic PhD student Amy Budrikis assisted Sue Hanson to man the display and then took part in activities and events over the weekend.
Thanks to the Wilderness Society and the Ngaju Rangers for inviting GALC along to the event. We look forward to another in a couple of years time!