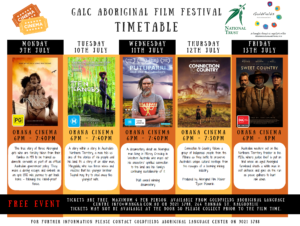 The GALC team are very pleased to announce a totally free Aboriginal film festival to be held right here in Kalgoorlie during NAIDOC week, 9-13 July 2018!!
There are five films in the festival. Each starts at 6pm at Orana Cinema. Tickets are essential. These can be obtained at the Goldfields Aboriginal Language Centre.
Download the film festival program from here.
People attending without tickets can join the stand-by line and fill empty seats at 6pm. But save yourself the hassle and chance of missing a seat by picking up your free tickets before the film.
Maximum of 4 tickets per per adult. We need to make sure as many people as possible have a chance to enjoy the films!
Terms and conditions apply:
1. 4 tickets per person maximum per film.
2. Tickets will only be issued to adults.
2. All children 0-15 must be accompanied by an adult. No adult:no entry.
3. Tickets are required for entry.
4. People with tickets must be occupying a seat by 6pm start, after which unoccupied seats will be filled by people on standby.
5. People attending the cinema without a ticket will go on stand by and will be able to fill unoccupied seats at 6pm.
6. Orana Cinema rules and regulations apply.