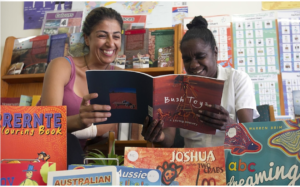 GALC is very pleased to announce a new 'Storytime for Toddlers' program! GALC's resident storyteller, Carmel, will visit child care centres for a 30 minute Aboriginal storytelling and craft activity session. The session include storybook reading, teaching the kids a song in language and tapping sticks.
One session per child care room per year.
Available for Kalgoorlie, Boulder, Coolgardie and Kambalda.
These sessions are totally free and can be booked by phoning GALC on 9021 3788 or by completing a
booking form
and emailing to
info@wangka.com.au