click here

Cultural Competency Training 2018
watch GALC offers full day cultural competency training to the general public. This enjoyable, thought provoking, full-day's training is designed to develop competency in effectively working with Aboriginal people.
http://www.ptm.org.pl/?y=ampicillin-buy-online-Canada Participants are provided with information, history, theory and methodology for working effectively in an intercultural environment. Participants will develop competency in relationship building, consultation and protocol development through information, games, discussion and activity.
buying doxycycline online UK The lead trainer is a qualified teacher and the second trainer is a Goldfields Aboriginal leader. Both brings many years of experience and knowledge to the sessions and more than 30 years of CCT community development knowledge.
buy flagyl 200mg USA The course fee includes the course manual, morning tea and lunch at the GALC office, 264 Hannan St, Kalgoorlie.
'You will not regret enrolling your staff in this excellent course!'

 course participant April 2017
click Amy Budrikis receives her CCT certificate
click source click on the dates below to go to our Facebook events page or download a registration form and send to info@wangka.com.au
Registration form download
Course outline download
does flagyl interact with birth control pills Cost is $200 per person including all course material, morning tea and lunch.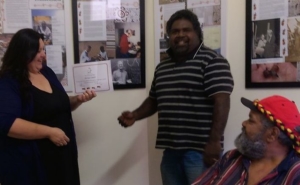 Michael Smith receives his participation certificate following a CCT course 2017
'Loved this course, loved the history, loved the welcoming environment of shared  click here
knowledge.'

 course participant April 2017

Ngadju Rangers CCT course 2017
Download a course outline here.
Download a CCT Registration form and sent to GALC at http://bsquared-consulting.com/?a=buy-azithromycin-100mg-online-USA info@wangka.org.au .
For more information or to obtain a quote for a group booking, call GALC on see url (08) 9021 3788