enter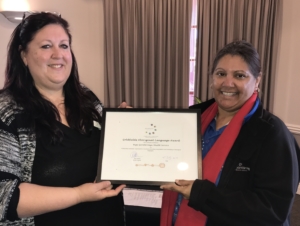 amoxil 250mg cost Australia Bega Garnbirringu receiving an award in 2017
cure for a bacterial infection Its that time of year! Get in your nominations for the Goldfields Aboriginal Language Centre's language awards.
buy azithromycin Australia Nominate someone who is a language champion, an elder who keeps language alive with the grandkids, a school doing a good job of teaching language or maybe a business that ensures Aboriginal language speaking clients have access to interpreters.
taking amoxicillin with orange juice Maybe you know a youth who is making sure they learn their heritage language?
source url Whoever it is that you feel should be nominated, stand up and nominate them!
source url Nominations close Friday 29th June 4pm. Get them in by mail, email to info@wangka.com.au or drop them in to GALC at 264 Hannan St, Kalgoorlie 6430.
click Further info can be found on this website.
http://actiononaccess.org/?c=buy-amoxicillin-500mg-cheap Nomination forms too. They only take a few minutes to complete and send!
follow site For further info or to discuss your nomination, call the linguists on 9021 3788.